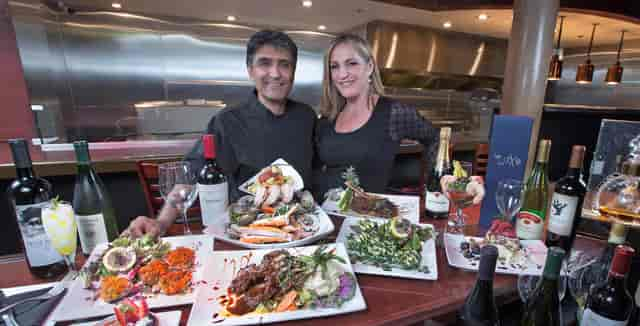 About Us
Our Values
Luxe Restaurant consistently provides the finest food and service with-in a casual fine dining atmosphere, earning a "Guests for Life" reputation with its local residents. Fostering lasting relationships with vendors, business associates and communities where we do business. Providing a positive, safe and supportive work environment in which hospitality-minded employees are developed, trained and rewarded.
About the Owners
Husband and wife team, Jimmy and Cindy, opened Luxe Restaurant and Martini bar in 2010. Luxe is the most recent of several ventures. They have been Dana Point residents since 2004, when they moved from Southeast Florida to purchase Harbor Delicatessen in the Dana Point Harbor. Prior California ventures include Tannin's in San Juan Capistrano and Café Mezzaluna in Monarch Beach.

Cindy is an Ohio native, growing up in the eastern suburbs of Cleveland and is a graduate of Youngstown State University. Jimmy is a native of Iran, and moved to the United States when he was 15 years old. He developed a culinary passion just a few years later while training under renowned top Italian chef, Victor Testa. He opened his first Italian restaurant/pizzeria in New Jersey when he was just 22 years old. From there, he went on to open other restaurants in the Cherry Hill, NJ area… eventually moving to Boca Raton, FL in 1991 where he opened La Luna Italian Bistro (among other restaurants.)

Jimmy and Cindy met on Vacation in Cancun, Mexico in 1994….and in 1995 Cindy made the move from Ohio to join him in Florida… the rest is history. They have 2 sons attending Dana Point public schools. They have catered numerous city events, local weddings & parties and are very active in the community.